The Cafe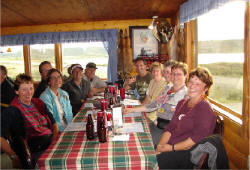 The Tangle River Inn Cafe opens at 7:30 a.m. each morning, providing home-style meals, and daily breakfast, lunch & dinner specials. The cafe is open until 10:00 p.m. each night.
Tour groups can expect buffet-style dinners, featuring such entrees as Roast Turkey, Beef, or Pork, with all the trimmings. In August and September, the surrounding hills are ripe for the (blueberry) picking.
Fresh Baked Pies, Muffins & Cookies - keep your eye on the Special Board & your nose toward the kitchen, and get 'em while they're hot!
Take care not to let your meal get cold while enthralled by the view of the Round Tangle Lake, Landmark Gap, and surrounding mountains from the windows of the cafe. Binoculars are ready and waiting on the windowsill to get a closer view of the diverse wildlife that makes this area their home.
The Gift Shop
Located at the front desk, with more items displayed throughout the lodge, the Tangle River Inn Gift Shop features a beautiful selection of prints, jewelry, crafts, and other gift items handcrafted by Alaskan artisans.
Whether its an eternal reminder of your visit to Alaska, or for that special someone back home, the lodge's Gift Shop provides unique Alaskan gifts to suit every taste. And postcards, too!
To see some of our Alaskan gold nugget jewelry, take a peek at this site: Fishing for Gold.
The Gift Shop also carries a small selection of absolute essentials, including: fishing tackle, insect repellant, and pain relievers!
The Grizzly Bar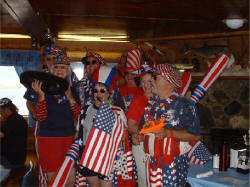 For rainy days, the Grizzly Bar features a game room with pool and foosball tables, chess and cribbage boards, playing cards, satellite TV and VCR.
Home of the most remote Karaoke Bar in Alaska!
One never knows what talent hides among the guests of the Tangle River Inn! Whether you take center stage, sing backup, or merely tap your foot in time, the evening Karaoke sing-along promises to entertain!
Liquor Store
The Tangle River Inn also has a liquor store to supply your libation needs. Pursuant to local law, the liquor store has a separate, outside entrance. Simply ask someone in the cafe or bar to assist you!