Activities Available in the Tangle Lakes Area
Fishing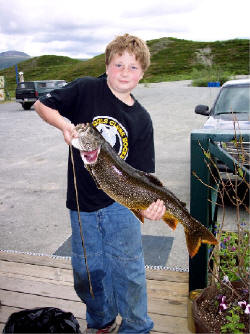 A picture IS worth a thousand words when it comes to fish!
The Tangle River Inn overlooks the lakes which form the headwaters of the Delta River. Cast a line from the dock, or rent one of the Inn's canoes to get to more remote areas of the Round Tangle Lake. To access more of the numerous lakes surrounding the Inn, you can hike the extensive trail system in the area.
The lakes surrounding the Inn are loaded with lake trout, grayling, whitefish, and burbot. A 20 minute drive takes you to the Gulkana River, teeming with sockeye salmon. Indeed, 15 minutes farther up the Richardson Highway, at mile 188, you find the Gulkana Salmon Hatchery, where during spawning season red fish bodies can be seen swimming upstream by the thousands from the side of the road. A perfect day trip for visitors of the Inn!
For information on non-resident fishing regulations, access the Alaska State Department of Fish & Game's Web Site via our Links of Interest page. REVIEW THESE REGULATIONS THOROUGHLY! Some areas are closed to fishing, and specific lures are not allowed in others! Only artificial flies are permitted in some areas of the Gulkana River, so be sure to bring your fly rod and gear, too!
Hunting Trips
The area around the Tangle River Inn is home to a wide variety of wildlife, including moose, caribou, grizzly bear, ptarmigan, beaver, muskrat, fox and wolves. For the photo hunter, the area also boasts bald and golden eagles, and swans.
For more information on non-resident hunting regulations, visit the State of Alaska Department of Fish & Game's Home Page via our Links of Interest page.
Hikes, Sites & Adventures!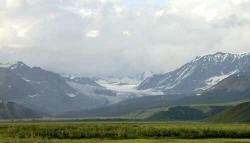 Gulkana Glacier Hike
Accessible by trail from the Richardson Highway (a hike of approximately 2 miles from the end of the trail is required).
The Round Tangle Lake
Rent one of the Inn's canoes for a quiet, private tour of the lake's scenery and wildlife, or to find your perfect fishing hole (located a stone's throw from the Inn). $10 per hour, or $50 a day!
Amazing scenery, sites, wildlife and more recreation than will fit in one trip. Boredom is an option, not an issue, at the Tangle River Inn!
View the Gulkana Salmon Hatchery
The sockeye salmon run begins the first part of July. Later in the season, their coloring makes them obvious to the naked eye against the rocky river bottom (Mile 188, Richardson Highway).