Accommodations
Whether you're looking for a comfortable room or cabin to call home during your visit to the area, need gas or a meal while driving the Denali Highway, or just want a fun and relaxing haven while camping in one of the nearby campgrounds, the rustic Tangle River Inn provides unparalleled comfort and convenience in an Alaskan paradise.
The Tangle River Inn combines comfort and convenience with rustic charm, making it the perfect home base for your Alaskan adventure.
Room Descriptions:
Moose Holler - Starting at $135.00
5 rooms designed to keep families and groups together: $135.00 per night for two occupants, $150.00 for 3.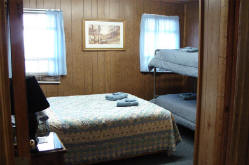 Private half-baths and access to private shower rooms.
Caribou Lane - Starting at $135.00
7 rooms at $135.00 per night for 2 occupants, $150.00 for 3. Private half-baths and access to private shower rooms.
Swan Lane - Starting at $105.00
Our Swan Lane rooms contain a double bed and a twin bed. $105.00 for double occupancy, and $120.00 for triple occupancy. Economy rooms share a full bathroom.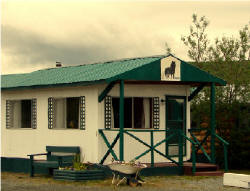 Private Cabins - Starting at $180.00
All of our cabins come equipped with a full bath - $180.00/night double occupancy.
Wolf Haven - Bears Den - Loony Bin - Mallard's Roost - Eagle's Nest - The Dog House - Squirrel Nest - Fox Den - Ptarmigan House - Beaver House - Buffalo House
Bunk House - Starting at $48.00 per Bed
For the large family or group traveling on a budget, the Bunkhouse contains 5 units, sleeps 10: $48.00 per bed, per night. Economy units share a private bathroom.
No matter where you stay during your visit to Alaska, when making reservations for lodging in remote areas, be sure to inquire about your room or cabin's light and heat source, and restroom facilities. But of course we have electric lights and forced air heat. After all, there ARE ladies present!
Please call us (907) 892-4022 Winter or (907) 822-3970 May - Sept. or Email us at: deejack37@gmail.com to make your reservation.